Last Minute : Details
From Tuesday, November 14 2017 to Saturday, December 31 2022 - Starting from: 25,00 €

Bicycle Bike Sharing In Milan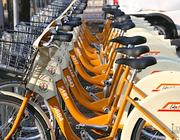 BikeMe BIKES IN BIKE SHARING IN MILAN

BikeMi is a project of the City of Milan, made in collaboration with? Atm and the company Clear Channel, player of the world? Outdoor and keeper of one of the most advanced international systems for the areas of bike sharing. Clear Channel is present with this system in many cities such as Zaragoza, Dijon, Barcelona, Oslo, Stockholm, Washington.

HOW BikeMe

Become a part of BikeMi is easy, like riding a bicycle:

1. Choose one of the subscriptions at your disposal, annual or by March 2009, weekly or daily and stored off site, in ATM Point or via WAP.

2. If you choose a daily or weekly ticket, you will receive by mail (for registration on the website) or via SMS (in case of registration through wap) a user code, which, along with the password you chose when registering, you can immediately use to renting a bike. Please note that your subscription will start from the occasional moment when you will receive codes via email or SMS. If you choose l? Annual subscription, once registered, will send BikeMi l? Special ID card within approximately 15 days.

3. Activate your card on site, or via toll-Point ATM.

4. Visited one of BikeMi station of your choice.

5. Pick up your bicycle at each station is a pillar of service on which you place the card BikeMi (annual subscription) or type your username and password (weekly or daily) and follow the instructions that appear on screen. Eventually you´ll be shown the number of parking the bike that you can cash out. Get to your bike, Pull it gently and parties.

6. Return your bike to the station closest to your destination. Enter your bike in a place free coupling and expects the bike is properly hooked up (the light green of the coupling point must become green disk). Never leave the street.

Always carry with you your subscription!





REMEMBER:

· The first half hour of use is free.

· After the first 30 minutes you pay? 0:50 every half an hour later or fraction up to a maximum of two hours.

· Remember that cycling can not be used for more than two consecutive hours of travel *.

· Once exceeded the limit of two hours, you will be charged a penalty of? 2.00 to? Hours or part thereof. If it exceeds this time limit for three times you will automatically be suspended from service and you can not reactivate it but will need to register again.

· From first to second use must pass at least 10 minutes.

* to travel means the?´s journey on the bike from the station of departure to arrival, regardless of whether it is the same or a different station.

BICYCLES BikeMe

All bikes are equipped with:

· Wide handlebars and ergonomic

· Saddle with adjustable height

· Shifting three-speed

· Support Center stands at rest

· Automatic day and night lighting

Pedals · skid

FOR INFORMATION AND ASSISTANCE

Toll Free ATM: 800 80 81 81

Operating daily from 7.00 to 23.00



TRAVELS WITH BikeMe DAILY

The service is open 365 days all year round from 7.00 to 23.00.

RULES OF USE

· Subscription is strictly personal and not transferable.

· Not allowed to carry one? Other person on the bike.

· L? Only person authorized to use it is the subscriber.

· L? Subscriber is solely responsible for the bicycle from the moment he takes from one station to the time when it is properly returned.

· The maximum use of the bicycle at a time is two hours. The first 30 minutes are free. Than two hours will be charged an amount equal to? 2.00 per hour or part thereof. If you exceed this time limit three times, you will be automatically suspended from service. A criminal? 150.00 will be charged to the credit card? User if not return the bike within 24 hours from the time the picks from the station.

• In the case where the destination station there is no coupling or bicycle available, bringing your card to the column of service (annual subscription) or by typing userid and password (weekly or daily), we will announce the availability of stations closer.

· Remember that the use of the bicycle must comply with the regulations of the Highway Code.

· To learn more about the current regulations of the Highway Code on the movement of bicycles, can be found at www.comune.milano.it

· When the bicycle is removed, l? You should check the condition of the brakes and that all elements of the bicycle is safely removable, as will the regular? Height of the seat.

• In the case when the bike is not perfectly certain elements present in operation, l? You should return it and take a? Other.

· Service BikeMi is not permitted for persons under 16 years.

· When bicycles are used on public roads must comply with traffic rules apply to any other vehicle.

· Bicycles can not be driven on one wheel or attached to other moving vehicles.

· Bicycles can be parked in no stopping areas of public transport or pedestrian crossings.
Information request
or
Check prices and availability on line !
Back